Tuesday, November 11th, 2008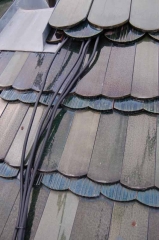 The second phase of the maintenance went underway in the middle of October, performed by Gyula Július, the Curator. All the equipment is working fine and the Corpora system still evolves.
It seems that the 13th Architectural Biennial already had more visitors then its predecessor, manly due to the ideal weather conditions in Venice. The guards reported about a daily two thousand visitors on the weekends, and many experts showed extensive interest on the actual system of Corpora.
The floods with plagued the city in the last weeks had no effect on the Giardini area, and the freshly renovated roof of the Hungarian Pavilion endured the rain so far.